Spot-Lite Materials add new dimensions to any product or environment!
Safe, effective materials
Hanovia's line of Spot-Lite Glow-in-the-dark materials are safe phosphorescent light sources that maintain high levels of light intensity in total darkness after exposure to any source of light.
Spot-Lite pigments, vinyl films absorb light from natural or artificial sources, then produce a high brightness and long after-glow visible in the dark for many hours.
There are numerous applications for Spot-Lite materials, ranging from consumer products such as toys, clothing, sporting equipment and games, to product packaging, signs, emblems, and industrial uses including safety identification of hazards and emergency exits and escape routes.
Pigments
Spot-Lite Glow-in-the-dark Series 1000 Pigments may be used in the manufacture of a wide variety of plastic products.
The pigments are suitable for injection molding, compression molding and extruding processes when compounded with thermoplastics (polystyrene, polyethylene, acrylic, etc.). Series 1000 Pigments may be used with complete safety in all types of industrial, commercial, and household items including toys, novelties, premiums, ornaments, and recreational equipment.
Vinyl
Spot-Lite products represent an advanced form of phosphorescence technology. Available with a pressure sensitive backing, the vinyl may be readily applied to most surfaces. This provides immediate recognition of directions, procedures, or instructions under normal or emergency conditions. These vinyls may also be used for screening and other printing techniques. Series 4100 CLL Vinyl with pressure sensitive adhesive comes with a 90-pound liner. Series 4400 CLL Vinyl is available without the pressure sensitive backing.
---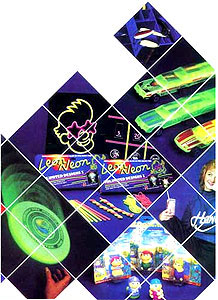 ---